The Centre holds numerous valuable resources recording the history and heritage of African Nova Scotians in the Guysborough and Strait regions, it was established in 2001 and runs under the auspices of the Strait District School Board.
A collection of photographs, publications and newspaper articles documenting the history of African Nova Scotians in and from the area is on display. The Centre runs many programs and invites speakers for students and teachers within Chedabucto Place, and is also open as a resource centre to other schools and educational institutions. The Afrikan Canadian Heritage and Friendship Centre is open to the public.
The Black Loyalist Graveyard, Monastery
Hidden away, just off Route 16, is a graveyard marked with a monument celebrating the Black Loyalists who began settling the area in the late 1700's. These Loyalist families settled as farmers raising livestock, and trades people who worked for their wages.
No one is sure how many people are buried here. There is only one tombstone standing on the site, marking the resting place of a soldier who died in 1918. This graveyard was lost to the community for many years. After its return to the community, the congregation of the Tracadie United Baptist Church erected a cairn on the site.
The inscription reads: "In memory of the pioneers of the Black Community, 1782-1931 who are buried in this cemetery. This cairn was erected by the Tracadie United Baptist Church members in 1988.?
African Canadian Heritage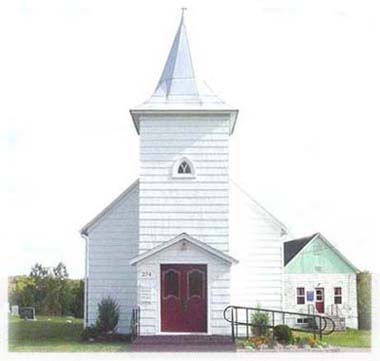 Tracadie United Baptist Church, Antigonish County
The church was started in 1822 with a congregation consisting of the descendants of Black Loyalists who came to the area in the late 1700's. The church often shared its pastor with the nearby community of Sunnyville.

There is a cemetery on site, reflecting the names of the families who settled in and were part of the communities. Some of the names seen on the stones today include Elms, Parris, Reddick, Campbell and Izzard.

The Church has served as a focal point for a long time, with gatherings of men's groups and women's clubs for the community. Members often combine their efforts to make contributions towards their own and the broader community. In 1988 members erected a monument to celebrate the history of the Black Loyalists in a recovered graveyard in Monastery.

Sunnyville United Baptist Church
The Black Loyalists arrived in the Guysborough area, and by the late 1800's had established a number of communities throughout the area. They faced rough winters and harsh, farming summers, yet persevered.

According to a historical account written by M. Allen Gibson:
The first reference to a Sunday School in connection with the Sunnyville church is from 1925. There were 26 scholars and Mrs. Mable Borden of Guysborough was the superintendent.

The date of the building in which people worshipped is not clear. The first mention of it in denominational records, however, was in 1925. There, for the first time in those records, a reference appears stating the existence of a church building the value of which was given as $1,000. The clerk of the congregation at that time was Mrs. James Skinner.

One of the longest pastorates in the church story was that of Rev. H. C. Cornish who served at Tracadie and Sunnyville for a number of years following his settlement there in 1964. Perhaps the most remarkable record of longevity is that of Ira Jewell who became clerk of the church in 1963."