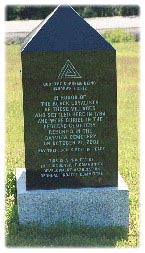 Black Loyalist History
Country Harbour – Isaacs Harbour – Goldboro
It is believed the Black Loyalist arrived in the Country Harbour area in 1784. In other information it is stated that the history of the black population in Guysborough County dates back to 1783 and that is when the Black Loyalist first came to this area. At that time the two main settlement sites for these people were Country Harbour and Guysborough.It is reported that in December of 1783 or 1784 a ship known as the Kings Rangers from sunny Carolina, brought loyalist to settle and homestead in the Country Harbour and Stormont area. Just think about it, December in warm Carolina and December in Nova Scotia, this would be quite a change. Stories of the misery, cold, scurvy and deaths have been told many times. It was reported that 300 of the 900 original settlers died the first winter.In spite of all the diversity and hardship they managed to clear land, build homes and raise families. They did this by very long hours of hard work and their belief in God. In 1817 a great gale accompanied by phenomenally high tides ravished the coast of Nova Scotia. A horrible misfortune fell upon Stormont the high winds blew down most of the great forest. This was the chief source of the community life. A number of homes were flattened and high tides swept them completely away. The people were discouraged and disheartened by this disaster and they thought this was a curse. Many of the people moved away, some to Guysborough some to Halifax or other provincial points.

Some of the names that stayed in the area were Jackson, Sims, Lynch, Webb, Harrington and Clyghts often called cly's now known as Clykes, there were many other names. Isaac Webb and his family were some of the people that stayed in the area. He moved just a few miles east to a beautiful little harbour that became known as Isaac's Place and it is know today as Isaac's Harbour. Isaac worked hard and as the years went by he raised a large family with extra hands to help do the work. It was reported that the family became quite prosperous. His southern hospitality widely prevailed and everyone rich or poor, black, red or white was welcome at the door of his large white farmhouse.

Isaac Webb lived in peace and harmony with the world and his neighbors which were the Mic Mac Indians. His name was honored and respected by all who knew of his sincerity and kindness. Many ships sheltering in the harbour from the storms that lashed the coast from time to time would purchase fresh provisions from the Webb farm. The crews from the ships began to know him as a friend.
Red Head Project
Benjamin Harrington, his grandparents and a number of other people moved to a place that is now known as Goldboro. There they cleared land, built homes and planted crops. These people sold fresh provisions to the many ships sheltering in the harbour from the storms.Benjamin Harrington had a son named Cecil who was a bit under six feet in height. He would slaughter pigs for people in his community and other surrounding communities. Cecil also used to do some boxing and was know in the area as "Kid Nova". He had a make shift gymnasium set up in the barn where he would work out and teach other children how to box. Cecil Harrington had sisters named Ada, Evelyn and Agatha, also known as Gate. Gate married Bill Skinner from Guysborough, he was known as Bill Skinner the Butcher. This was because he would do most of the slaughtering in the area. Bill and Agatha had a number of sons and daughters, One daughter is now living in New York. Alonzo Reddick spoke with her early in October of year 2000.Benjamin Harrington was not buried in the Black Loyalist Cemetery. He died in 1918 and was buried in the Bayview Cemetery in Goldboro along with a daughter whose name is unknown.

The first white settlers in the late spring of 1830 were two young fishermen, Simon Giffin and John MacMillan from Louis Head, near Sable River, bound for fishing grounds off Labrador. Bad weather forced them to find shelter for their fishing schooners as they sailed along Nova Scotia's eastern coast, in what is now known as Isaac's Harbour.

On the Goldbrook Road in Goldboro is a monument to the Black Loyalists who were buried in the Redhead Cemetery on the harbour side of Goldboro, after years of erosion gravesites were becoming exposed and a group of concerned citizens worked together to move the remains and erect a monument in their honor at the Bayview Cemetery.