Keepers Of The Beacon/Out Of The Fog Museum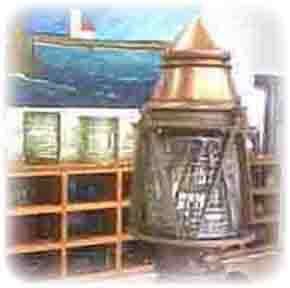 Guysborough County is located on the most eastern tip of the province of Nova Scotia. The area has a history that is rich in tradition. For centuries the people of the county made their living from the sea. The lighthouses and beacons that were located off the shores of Guysborough County directed many of our county fishermen to safety and have an interesting story to tell.
Queensport Lighthouse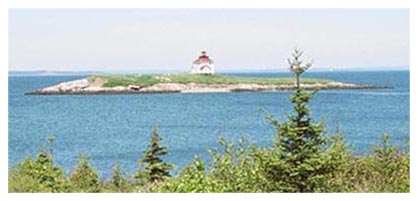 The Queensport Lighthouse sits on Rook Island (Rock Island) at the entrance to Queensport Harbour. It was first built in 1882 and at that time was lit by kerosene. It was a square white wooden building with a red lantern on the roof. The second building was constructed in 1936. The lighthouse became automated in 1967.
Keepers of the Beacon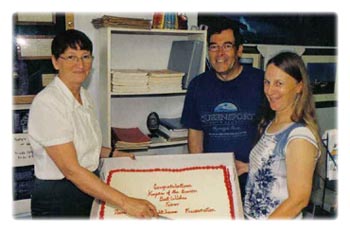 The Keepers of the Beacons members are light keepers and their families, fishermen and people who have a great love for their heritage. The society was formed in 2000 to assist in protecting and preserving lighthouses. We have worked hard over the past years collecting artifacts to relate what it was like to live on a remote lighthouse."Out of the Fog Museum" is run by Keepers of the Beacons. They have dedicated long hours of hard work to this beautiful museum. Keepers of the Beacon, is a registered non profit, organization. All work is volunteer, with the exception of a summer student.I'm a little lighthouse keeper
I live down by the sea,
I'm a little lighthouse keeper
Hey look at me,
The sea gulls sing me to sleep at night,
The fog horn wakes me in the early light
I'm a little lighthouse keeper
I live down by the sea.